Administration
UNC Greensboro is one of the seventeen campuses of The University of North Carolina, the birthplace of public higher education in America. Administered by President Peter Hans and overseen by The UNC Board of Governors, each campus is headed by its own chancellor and Board of Trustees.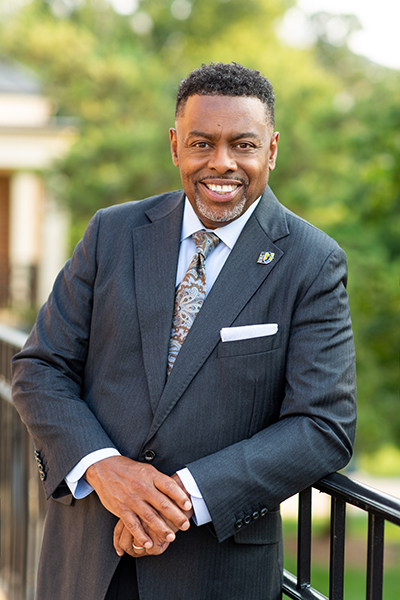 Chancellor Franklin D. Gilliam, Jr.
The Board of Governors of the University of North Carolina elected Dr. Franklin D. Gilliam, Jr., as the eleventh Chancellor of UNC Greensboro (UNCG) on May 22, 2015. Chancellor Gilliam brings to UNCG and the UNC System a wealth of experience from a career that spans more than 30 years in higher education. He took office on September 8, 2015.
During his tenure, UNCG has surpassed a record 20,000 students; grown its endowment, research enterprise, and overall facilities and campus infrastructure; significantly increased its fundraising; and elevated the presence, reputation, and real-world impact of the largest university in the North Carolina Triad region.
Prior to this appointment, Dr. Gilliam served as Dean of the UCLA Luskin School of Public Affairs for seven years and was a longtime UCLA Professor of Public Policy and Political Science. His research focused on strategic communications, public policy, electoral politics, and racial and ethnic politics. As Dean of UCLA Luskin, Dr. Gilliam shepherded a $50 million naming gift and launched and executed an ambitious strategic plan and capital campaign, establishing the school as a regional leader in addressing and finding solutions to some of society's most pressing problems.
VISIONARY AND CIVIC LEADER
Dr. Gilliam has not only led UNCG to record growth, but he has also helped build a solid foundation for a very bright future at the university. In his first year at UNCG, Dr. Gilliam worked with board members and key leaders to assure UNCG's inclusion on the Connect NC bond referendum, which voters ultimately passed, securing $105 million in funding for a new nursing and STEM building. The new building is scheduled to open by Spring 2021. He worked with campus leaders to secure a transformative gift from community leader and philanthropist Tobee Kaplan, who donated $5 million to name the Leonard J. Kaplan Center for Wellness. The gift is only the third of this size in UNCG's history.
Dr. Gilliam led the effort to secure Millennial Campus designation from its Board of Governors, creating the conditions that will drive growth in areas like health and wellness and the creative and performing arts for years to come on campus and in the broader community.
Dr. Gilliam is a senior fellow with the FrameWorks Institute (winner of the 2015 MacArthur Award for Creative and Effective Institutions), where he has contributed to research and training on health care, racial equity, early child development, youth and rural issues, and criminal justice. In 2018, he was named chair of the NCAA Division I Presidential Forum. Additionally, he serves on the boards of the Union Square Campus, Gateway University Research Park, North Carolina Campus Compact, and the FrameWorks Institute, as well as the Executive Committee for the Coalition of Urban and Metropolitan Universities.
AWARD-WINNING EDUCATOR
Prior to his appointment as Dean at UCLA, Dr. Gilliam served as the inaugural Associate Vice Chancellor of Community Partnerships in the University of California system from 2002 to 2008. As Associate Vice Chancellor, he championed UCLA's civic engagement by supporting engaged scholarship and community collaborations to improve the quality of life for residents of Los Angeles.
Dr. Gilliam is the author of Farther to Go: Readings and Cases in African-American Politics (Harcourt Brace), and his work has been published in many leading academic journals. He is frequently interviewed or cited by national and international news outlets such as CNN, The New York Times, The Washington Post, NPR, The Huffington Post, and the BBC.
Dr. Gilliam was honored with the 2015 Upton Sinclair Award by the Liberty Hill Foundation for his renowned work advancing civic engagement and commitment to issues of equity. Twice nominated for UCLA's Luckman Distinguished Teaching Award, he has also taught at the University of Wisconsin-Madison, Grinnell College, and the University of Dar Es Salaam, Tanzania, and was a Visiting Scholar at Brandeis University. In addition, he taught at Columbia University, Fisk University, and — with former Vice President Al Gore — at Middle Tennessee State University. In 2017, Dr. Gilliam was named by Triad Business Journal as one of the region's Most Admired CEOs — a group of top executives recognized for exceptional leadership in business, and for their philanthropic endeavors.
Dr. Gilliam received his B.A. from Drake University and his M.A. and Ph.D. in Political Science from the University of Iowa. Dr. Gilliam has been married for 26 years to Jacquelean ("Jacquie") Gilliam, most recently the Executive Director of Scholarships & Student Support Initiatives and Campus-Wide Initiatives at UCLA and now a philanthropic consultant and active community volunteer and leader. They are parents to Ariel Gilliam and Franklin D. "Trey" Gilliam, III.