UNCG Campus Maps
With one of the state's most scenic campuses, UNC Greensboro is located in the heart of the City of Greensboro, within a mile of the downtown area. The University's 200-plus acres hold 125 buildings and assorted recreational and athletics facilities and Peabody Park. A 15-minute walk will take you across this Tree Campus USA, a designation provided by the Arbor Day Foundation. This page provides travel directions for coming to UNCG and maps for getting around on campus. Use the links below for driving routes, parking information, printable maps with alphabetical, numeric and accessibility listings for buildings, and an interactive map that highlights buildings and locations by function.
Download UNCG Mobile for interactive maps
You can download the UNCG Mobile app from your Apple App store or the Google Play store and find an interactive campus map and much more. Choose from a list of campus buildings and the app will give you the address. Click on open and the map will open your device's map app where you can get driving or walking directions to your desired location.
Links to UNCG Mobile
DRIVE AND ARRIVE AT UNCG
Use Spartan Directions to plot your route to any destination on the UNCG campus and locate the nearest available parking.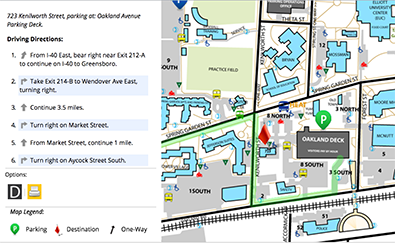 Spartan Directions
print-and-go maps
Printable campus maps in PDF form will help you navigate the campus and provide information on building access.